Reimagining Referrals & Employer Brand Advocacy
Employer Brand & Referral Activation Platform
A unique, campaign led approach to employer brand advocacy and employee referrals that's highly engaging; produces rapid results and is easily scalable.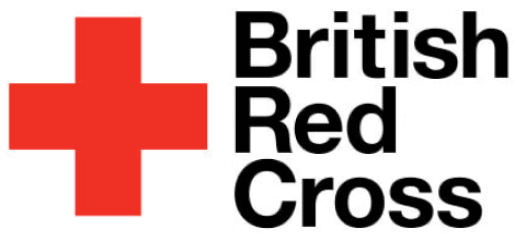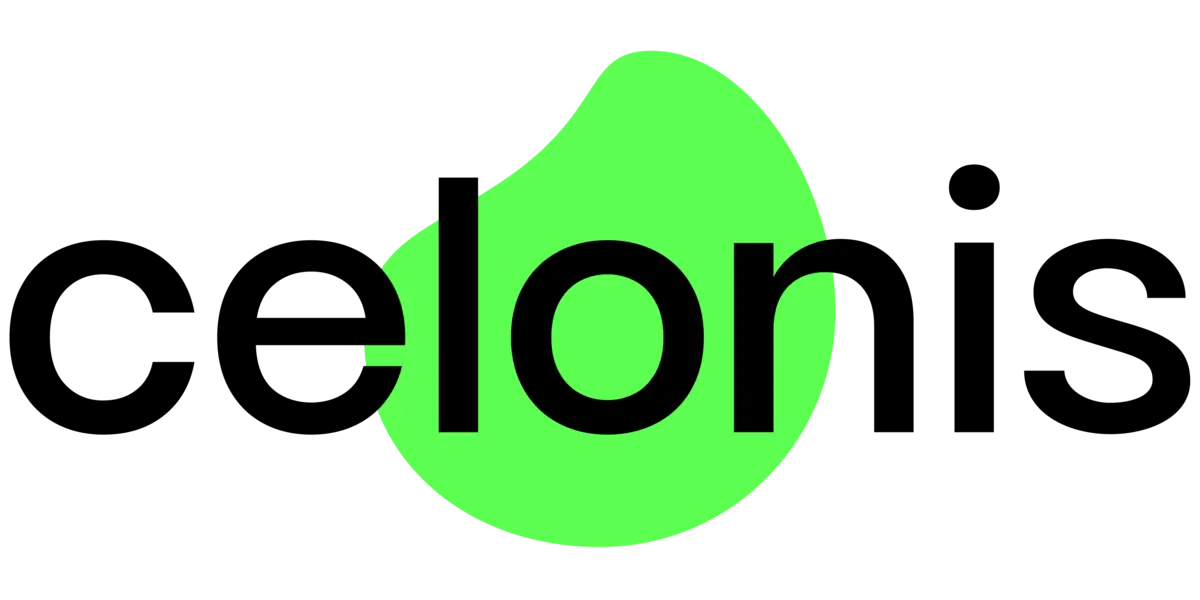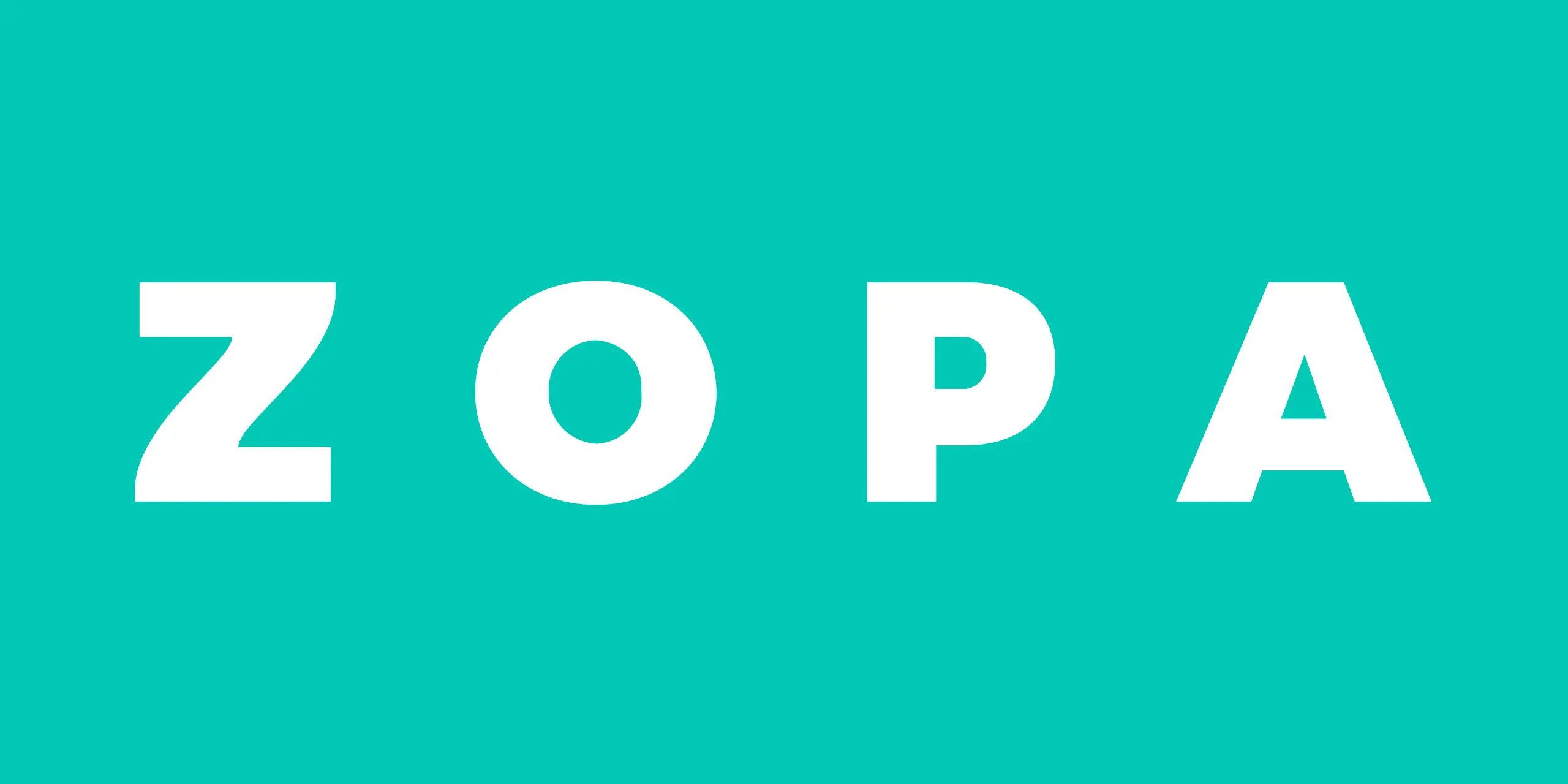 Changing the game for employer brand advocacy and referrals with campaigns
Reimagine referrals & advocacy with campaigns
Employer brand advocacy is critical for recruiting and retaining the best talent into your business. And employee referrals remain one of the most successful strategies to hire great talent, but not if you run them the traditional way.
For advocacy and referral tech that meets your strategic talent acquisition goals, you need Real Links Campaigns.
Award winning technology that gets results fast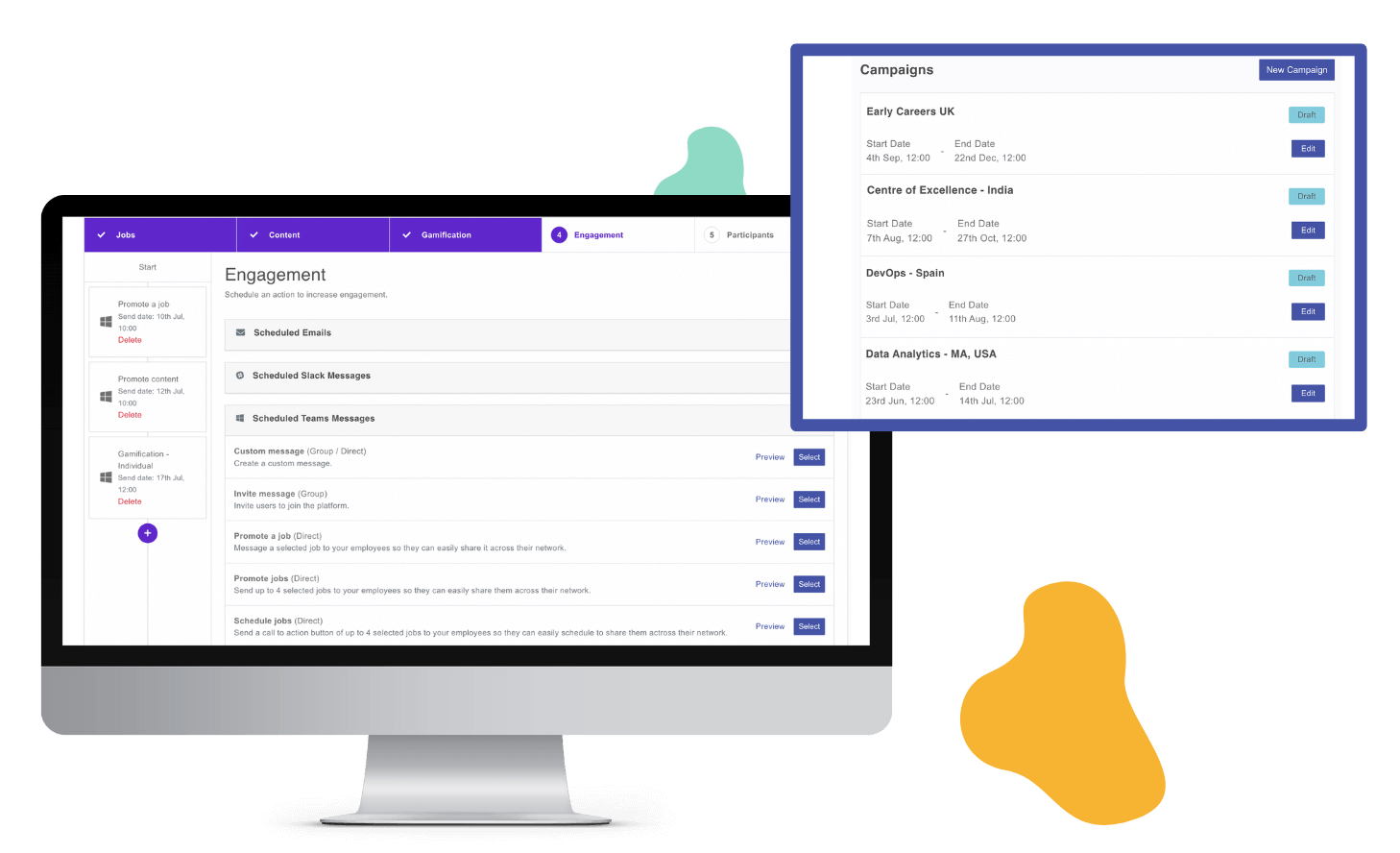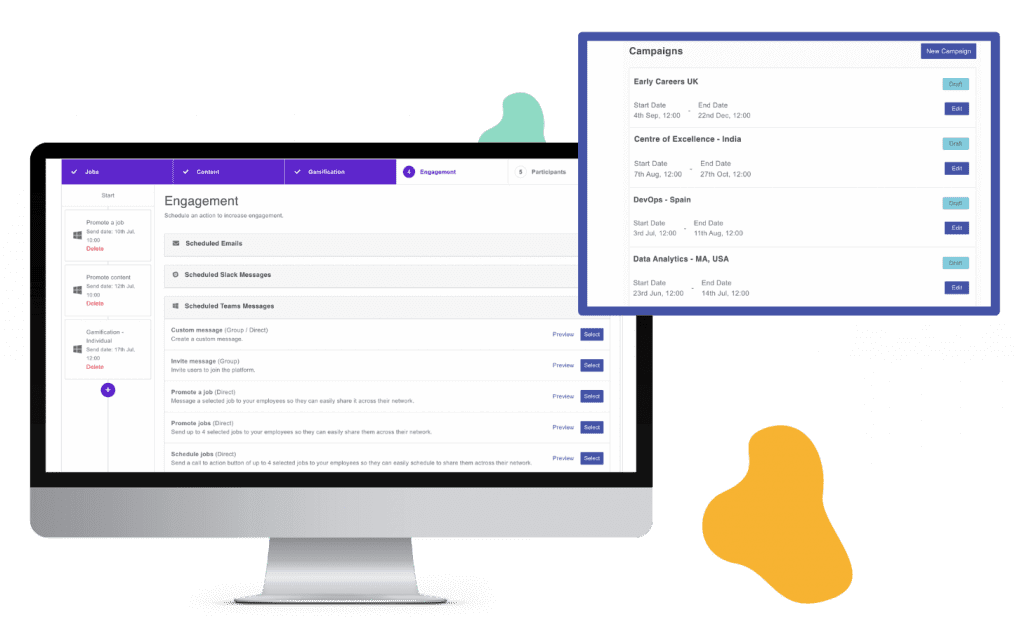 Quick, simple set up for TA teams
For TA teams, campaigns can be built using our pre-existing templates to save time, or start from scratch for a bespoke campaign. We run hundreds of campaigns with our clients, so we provide you with campaign templates designed with the goal in mind. Whether that's DEI; contingent worker; alumni campaigns or early careers, your team can set up a tailored campaign in minutes.
Schedule posts, review matches and share across social networks
Employees can schedule posts to be released at a later date, maintaining activity and engagement even when they're not in the platform. Auto-matching technology matches people from their network with open roles in the business, all they have to do is share directly with the individual or promote roles across a broad range of social networks.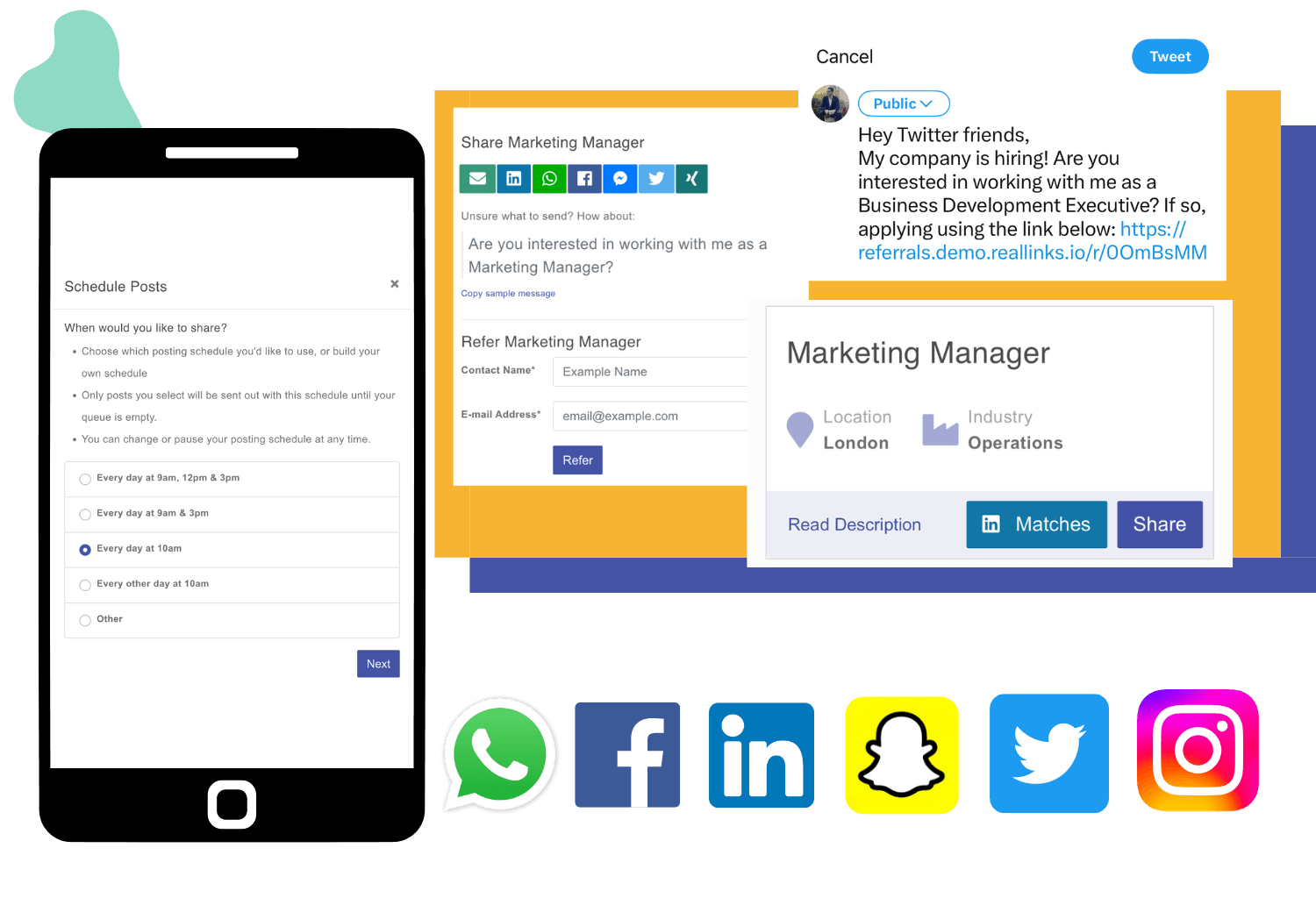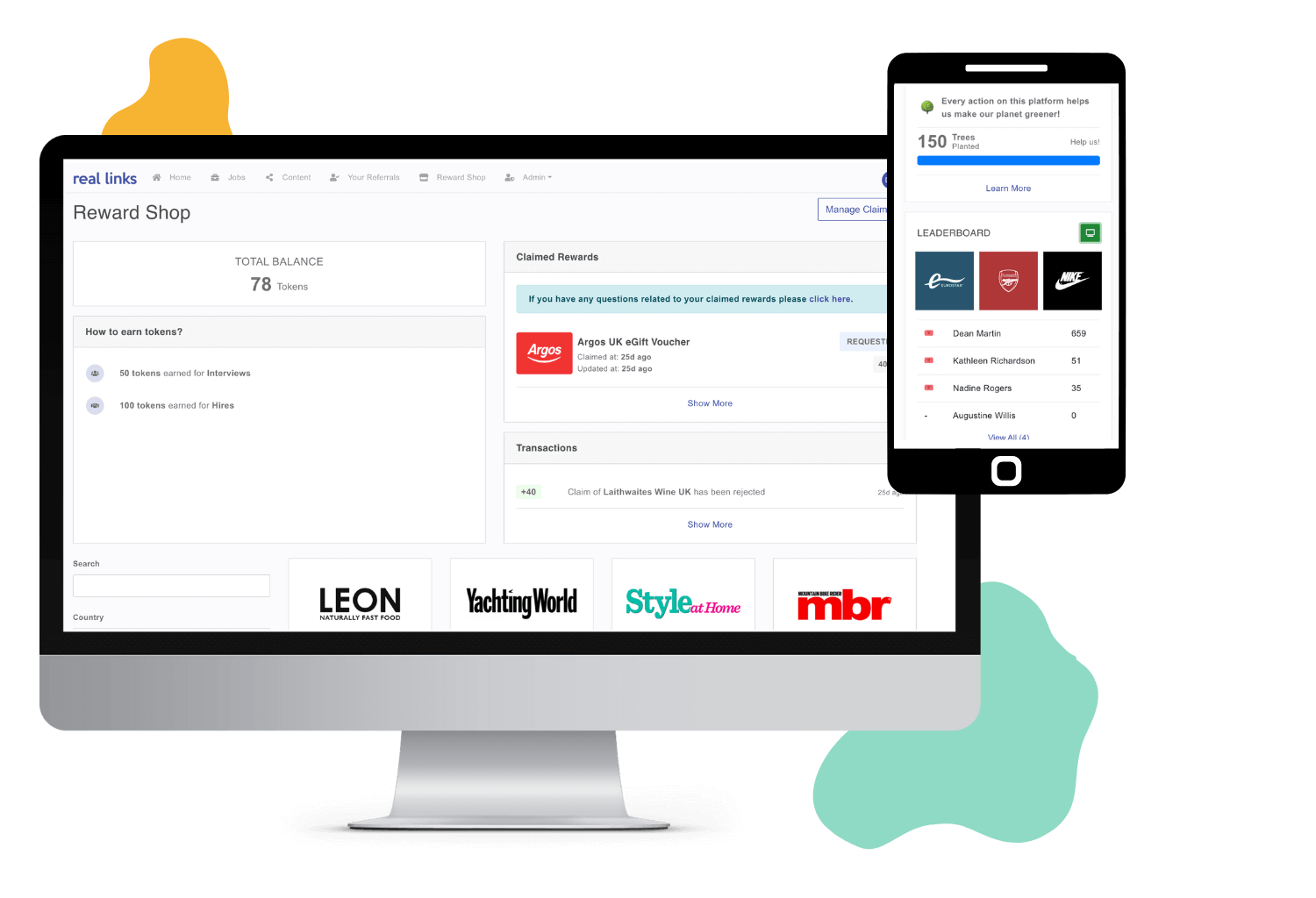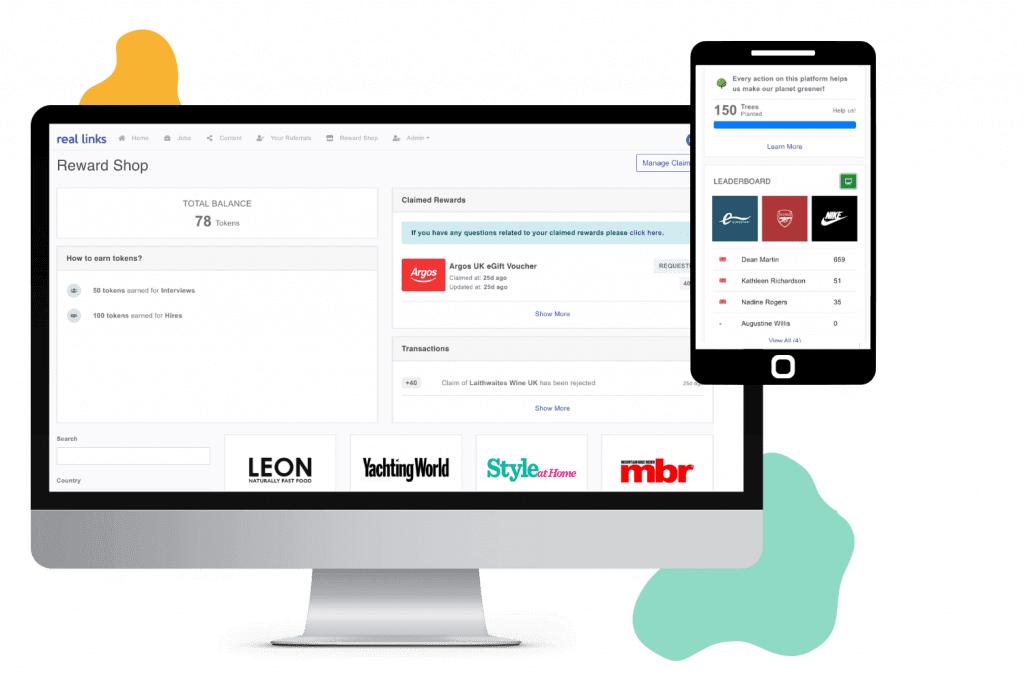 A gamified and fun experience for employees
Live leaderboards, raffles, rewards shops, confetti and prizes makes every campaign interactive and engaging – optimising employee engagement to between 70-90%. At the touch of a button, employees can see the status of their referrals, their leaderboard position and their rewards.
Use directly in Slack, Teams, email or mobile app
Employees don't need complex training or direct access to the Real Links platform to participate. Real Links enters the slip stream of the employee's day to day to technology whether that's Slack, Teams or Email. Employees can share a role; refer a candidate or share company content at the click of a button, directly from the tech platform they are already using, maximising engagement. For desk-less workers, we have a dedicated mobile app so employees can easily participate wherever they are.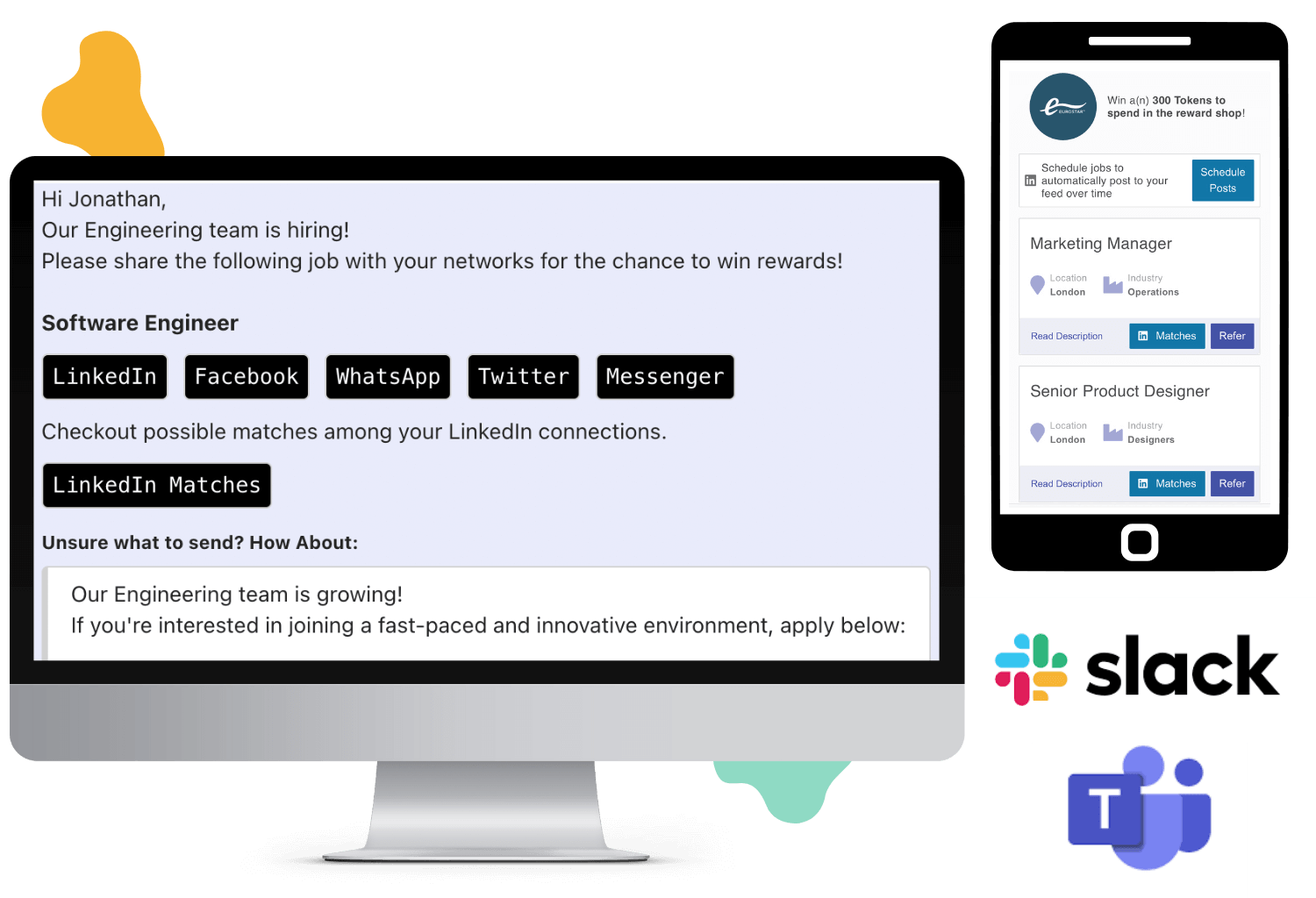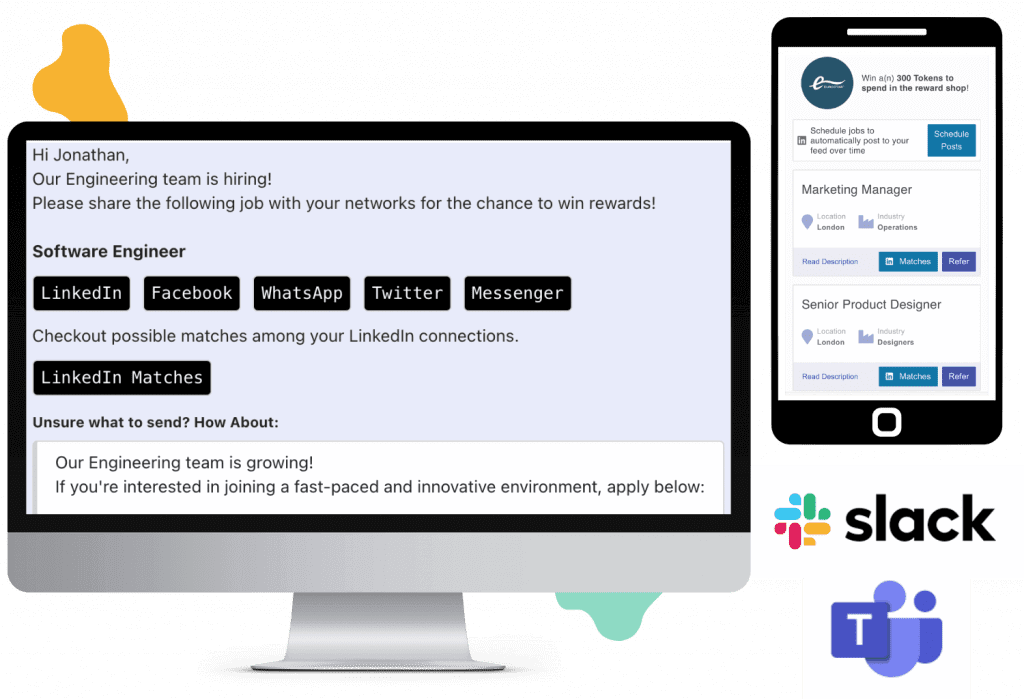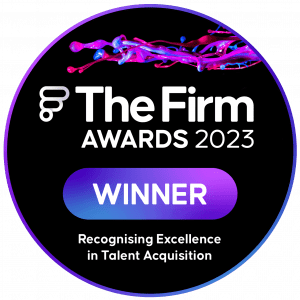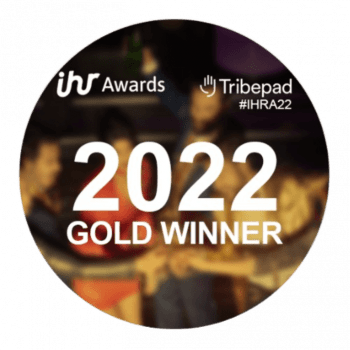 Winner Best Employee Referral Program 2022
Referral hire increase in 6 months



5 Steps to activate a campaign using the Real Links platform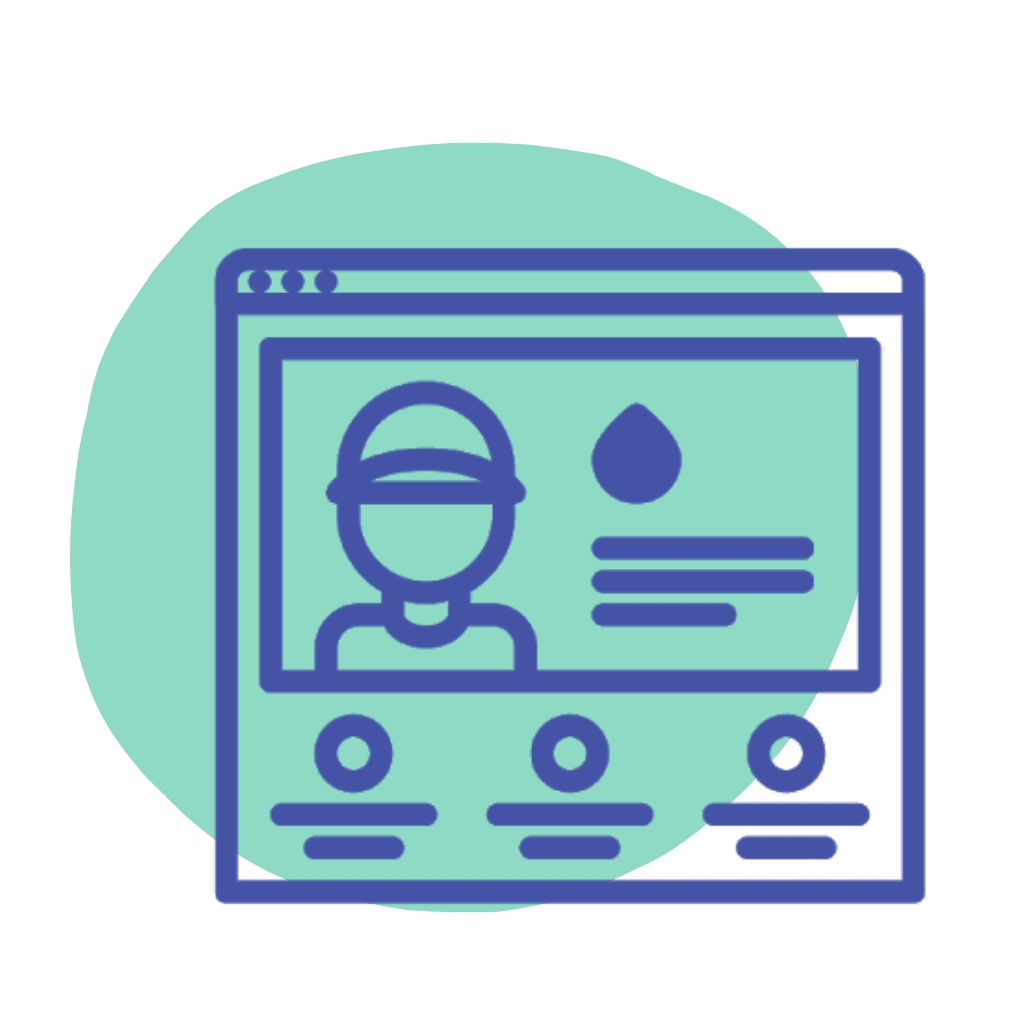 STEP 1
Automatically add jobs from your ATS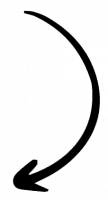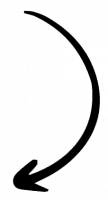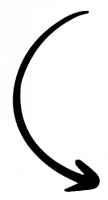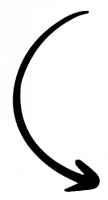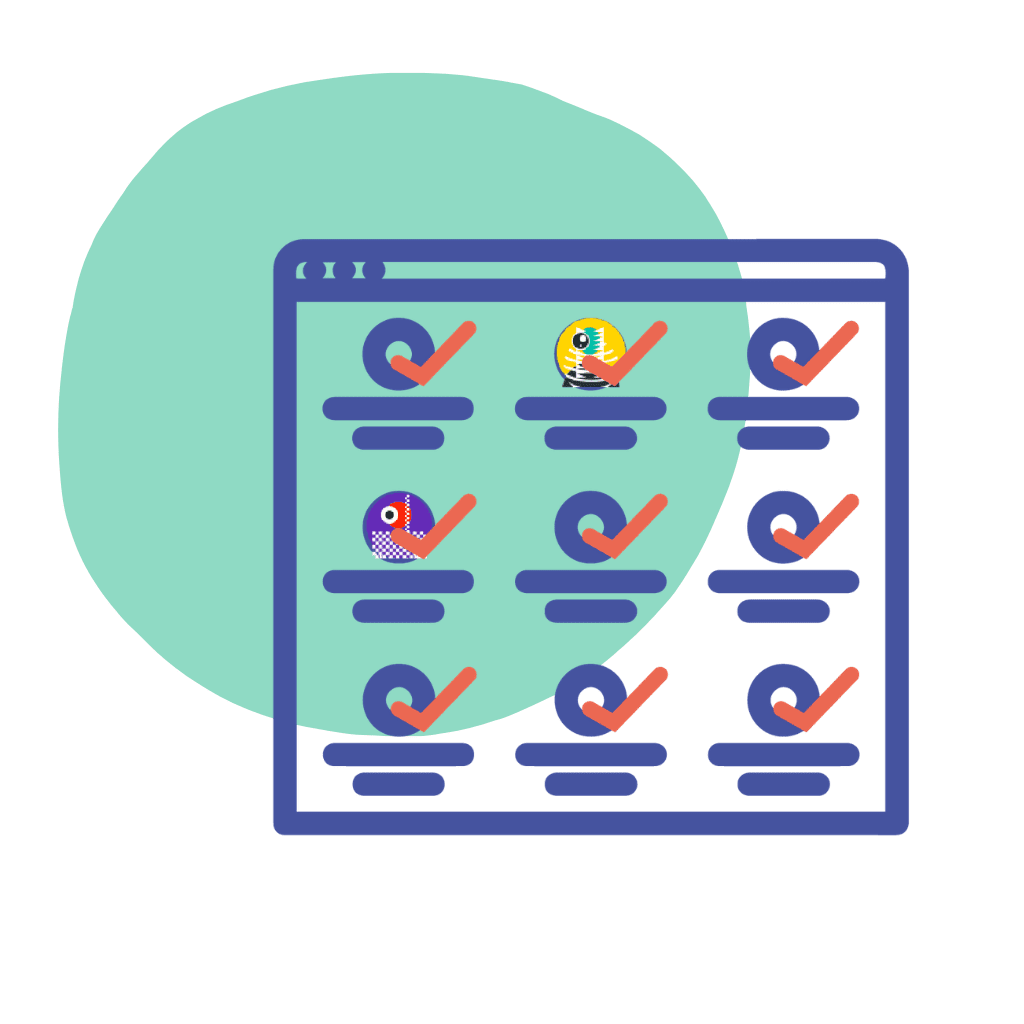 STEP 2
Select supporting content from career site or URL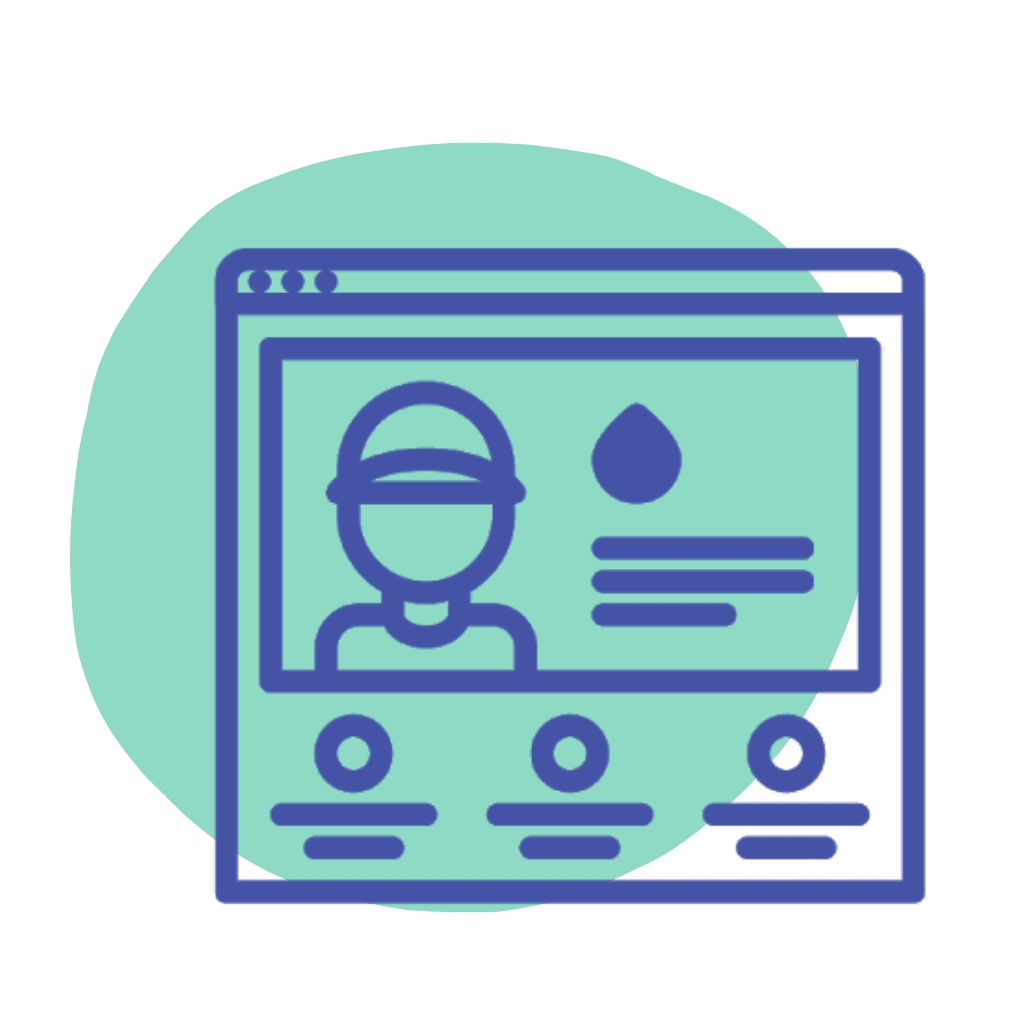 STEP 3
Select gamification - choose from leaderboard, raffle or collective goal (charity)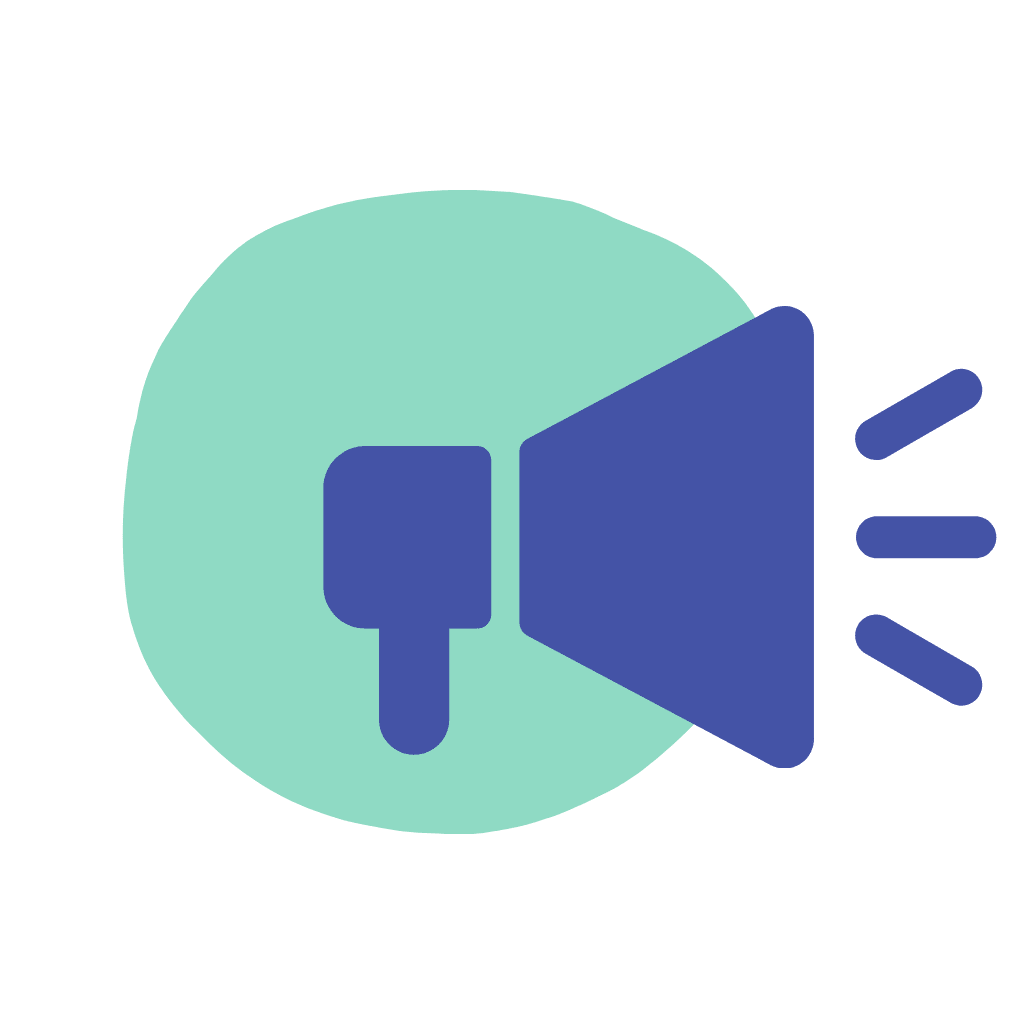 STEP 4
You decide which comms channel will best engage employees. Slack; email; Teams; mobile, it's up to you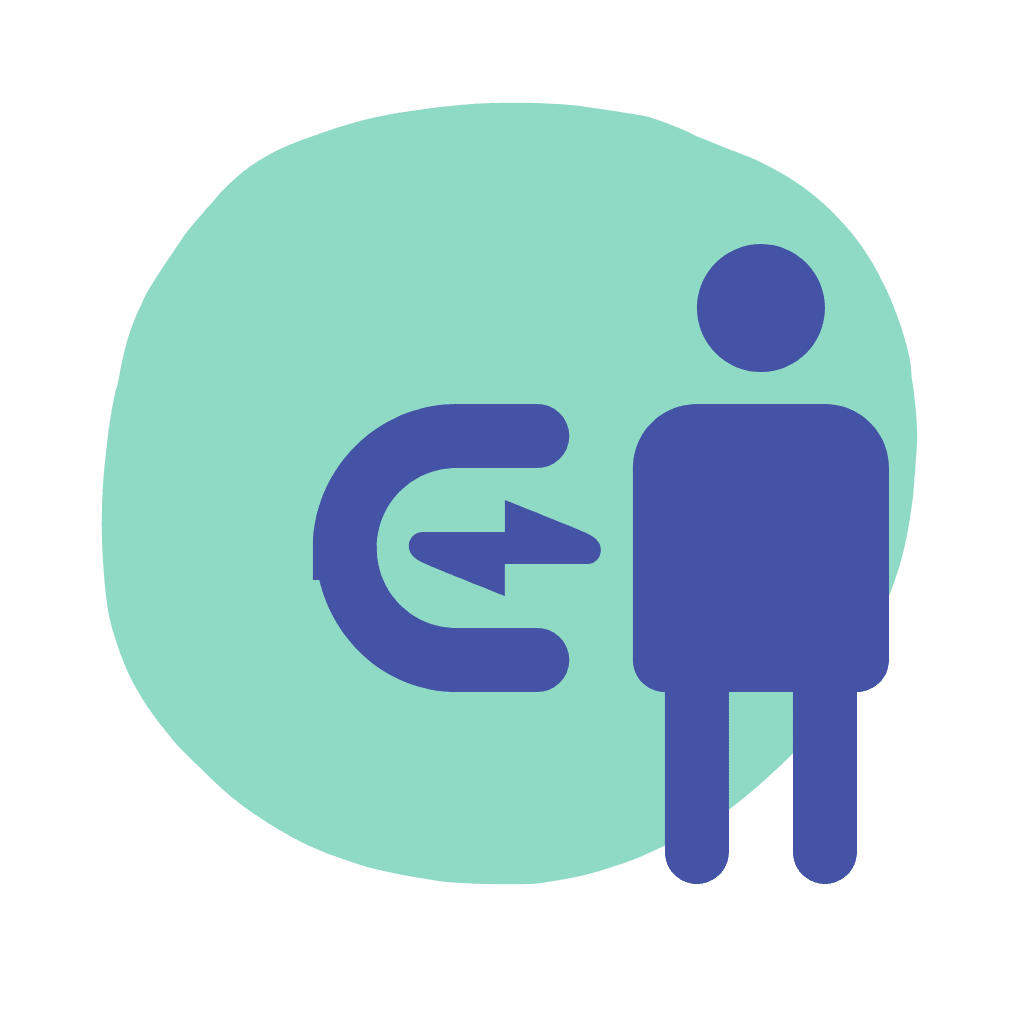 STEP 5
Select employee participants by geography, employee resource group, department or interests
Why customers choose Real Links over everyone else
Average increase in hires in campaign areas, plus huge increase in content shares
By including Slack, Teams & email integrations and app notifications, this is the increase in employee engagement per campaign – employee user experience is key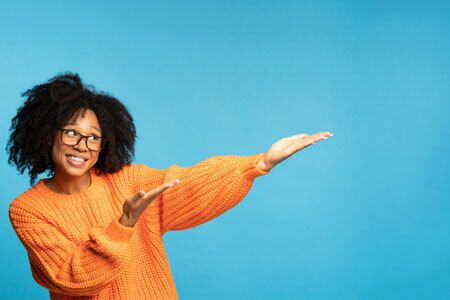 Real Links customers achieve on average 86% employee engagement per campaign
Real Links customers reported they now get referral hires where and when they need them
Real Links is built specifically to support TA's objectives. Making referrals strategic is the goal – there's a campaign for EVERYTHING. Making your life straightforward and your results? Unprecedented.
JoinTalent had great success with a hiring campaign that filled roles that had been open for 6 months, in under 30 days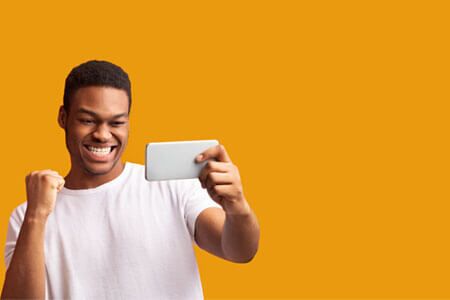 Employee experience matters
Employees can undertake all tasks straight from email or Slack, without having to login to the platform – meaning great employee experience, and massive engagement
Referral hires at Volta Trucks increase 680% using the Real Links campaign methodlogy
Social Platform Integration